This will be my second year participating in the Twitter Art Exhibit which is being held in Moss, Norway. Last year it was in Orlando, Florida. It's a fun idea open only to artists using twitter. I've made some lovely connections with other artists across the globe, sharing ideas, our process, and our art.
The sale of each postcard-sized work will benefit a group called Home-Start Moss, which helps families in need. Artist David Sandum of Norway is a foundering member of the exhibit.
I'm happy to have done my piece and sent it out. This little painting made it safely to it's overseas destination intact.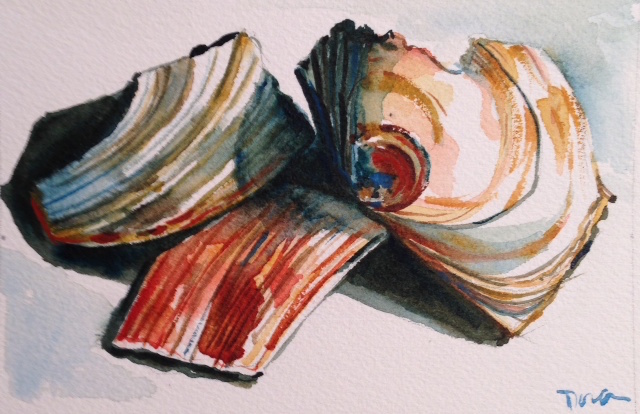 For me it's an incentive to get to work done, push aside Mr. Resistance so I can meet up with The Muse at my art space. And that ain't easy, as I've mentioned many times before.
Now, I know I'm going to hear it, that painting is a joy, all freedom and light, happy little trees in the forest Bob Ross stuff.
Creating art is a tough job and I'm a slacker lately. Totally unprofessional.
Shhh, don't tell my guru Steven Pressfield. He's already pegged me for an amateur.
You've got to be made of strong stuff to tangle in the creative realm. Distractions abound around every corner. The Muse waits for no one. Mr. Resistance, on the other hand, stays well past his welcome. He's pretty sly, that guy.
Yes, the crickets are chirping here.
Yes, I've made it to the studio to get some work done.
Yes, it may not be pretty, but hey, I'm here.
Right?