This was the most productive morning I have had in quite a long while. Working at my art making had taken a back seat to the mundane, every day stuff of life. What else is new?
Today you can pat me on the back because I beat Mr. Resistance at his game!
Making the most of a pretty wide open morning, I made my way to the studio space and worked on the latest larger piece. I had been putting it off, painting some small still life works, and ignoring this one.
At 18×24 it's large for a watercolor painting, but the small pieces were 7×10.
Big difference in working space.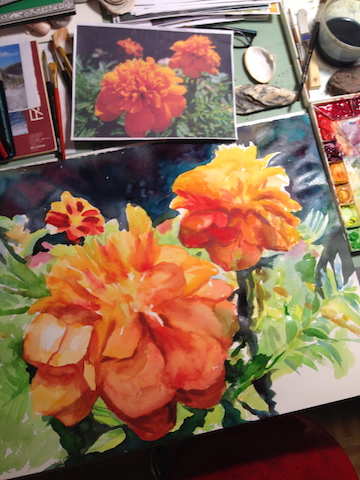 Twenty minutes and I had some really nice darks going on with a lot of color for interest. There's some things I'm not so sure I like, but overall this work is coming together nicely.
Another art event is soon approaching on Memorial Day weekend, and I hope to have fresh, new work to show. Updates will be forthcoming, unless Mr. Resistance shows up and drags me out of the studio by my feet.
It could get ugly.