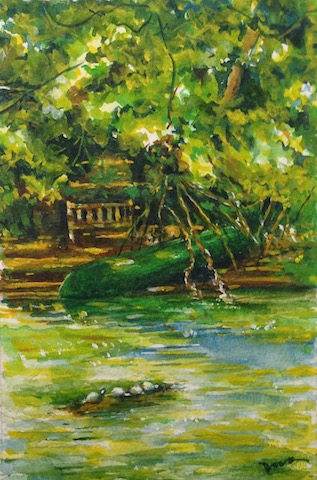 As I contemplate the year that has just passed, and look forward to the new year ahead, I am both grateful and regretful. Full of hope, today I picked up my favorite book, The War of Art, by Steven Pressfield, my guru, and this quote was the first page I opened to.
It is one thing to study war and another to live the warrior's life.

-Telamon of Arcadia, mercenary of the 5th century B.C.
What do you know?
New year's resolutions are well and good for some, but I find that every time I make them, I break them soon enough. So why bother? It's futile.
However, there has to be a strategy to mark the months ahead. Some grand plan to not just study "war," but "live" it. I've been on the losing end, in a way.
The last year gave me a lot of grief, and plenty of hope. Early on I had my first solo art exhibit that went very well and taught me some valuable lessons. Selling some work gave me validation. No sooner was the big event over that I fell into a work slump. Dashed the blog, the painting, the creation, the Muse left my side and I let other things get in my way. Resistance at it's worst.
Here and there I pushed through only to fall into more Resistance. Why bother was my mantra. Hence, the grief.
Then a ray of light, a commission came out of the exhibit and I got myself together to get the work done. Great! Once I finished and delivered the painting I felt a sense of accomplishment. Soon after the Twitter Art Exhibit info came out and I painted and sent off my postcard sized watercolor painting. Hurrah!
Since then the tumult of winter holidays and obligations began, and there went everything to the trash.
Boom.
The hope is that I made it to the blog today to complain about it all. Spill it out, tell the story, stop studying the war and fight it.
I think it's a good thing.