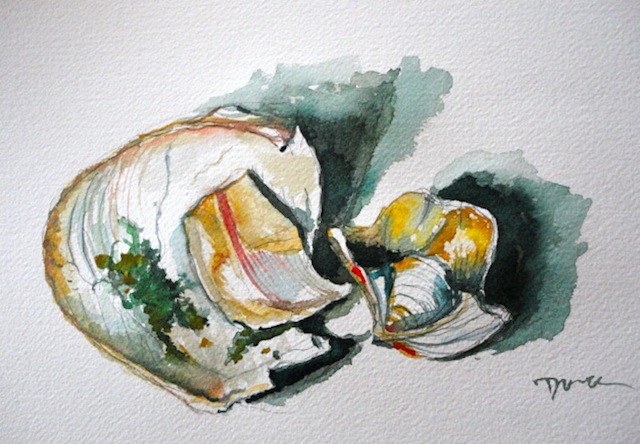 With the holidays upon us, there is no end to the things that need doing now. Needing to address so many items on that long and getting longer to-do list, that painting will probably be the last thing that sees any action.
How is it that there aren't enough hours in the day to accomplish it all? Besides, there is just no afternoons anymore here in New York. By 4PM the day is gone and it's pitch black outside. It might as well be midnight it's so dark and dreary. Add the wintry bluster of the weather lately, and let me tell you how much is going to get done.
Nothing! Yeah, you heard it right. Nothing is going to get done.
So I thought I would cheery myself up by listing some of my summer watercolor paintings.
A while back I was working in twenty minute segments of time to start and finish my paintings. It was, and still is, a good strategy for getting something down on the paper, or canvas if you desire, and finishing up quickly before I went too far and had to trash the work. It was a wonderful experiment and I've kept the strategy going even for larger work.
Twenty minutes into my work I stop. Sometimes I walk away to run an errand. I might work on my jewelry pieces, or finish another painting. Then I can return and work another twenty minutes, step away again and assess where I'm at.
Before I started working this way I would go too far, for too long, and ruin perfectly lovely work. Over detailing, too much color, too much stress, and in the trash!
Now if I could possibly use that little trick during this hectic holiday time, maybe, just a small maybe, I could get paintings moving.
Twenty minutes in the process is a possibility. Maybe not probable, but I'm trying to stay positive.