What's new in the art world, here in my little studio? Lots of daydreaming, some process painting, more daydreaming, and now that the weather is changing knitting could happen soon.
Before I talk about knitting, let me show you the latest watercolor painting. Try to remember I'm working on the process, ok? That's what I keep telling myself. Ahem.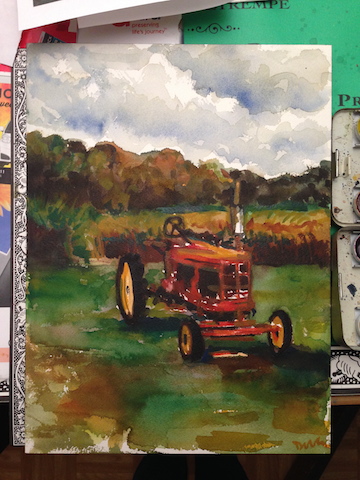 I already worked this in the hated acrylic paints, but decided to revisit the scene using old school Maribu watercolors. Why not? I really enjoyed this day of plein air painting with a new/old friend I made online and finally met in person this day, so it was special. As we were leaving the flower nursery we were at we found these great tractors and took photos to paint from later on.
Now, about the knitting. Wintry weather makes me want to knit wooly and warm things so I've been looking over my yarn stash, and hunting for patterns. That's the daydreaming part.
We now have a 4 month old grandson to knit for. Thrills!
Beyond knitting baby items I found this article on how knitting is healthy to do titled "5 Reasons Knitting is Good for You." Perfect! That's just what I need to hear, so I can keep on buying, oops, knitting with yarn.
Did you know that an hour of knitting burns 55 calories? Yes!
Knitting helps keep dementia at bay? Perfect!
Want to tamp down that 'fight or flight' response? Yep, knitting can do that.
Now if I could paint and knit simultaneously that'd be a great thing.