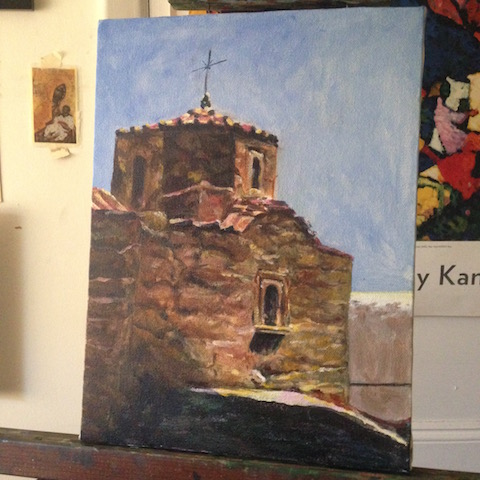 So the Greece dream visit is over. Wonderful as it was, it's done. August is almost finished as well, and it is high time I get myself back to making art. Being in Greece for any length of time and one can lose themselves in the beauty, the deep blues, the ocean, the light and white, the weather, the music, the food, the people..
Yeah, it's all that, and more.
Work has been a struggle this past year. More than once I let my head get in my way. Life happens, yes, but it shouldn't mean work, the blog, the whole thing, needed to suffer. Soon as my solo show was over I was spent.
Now that I'm home from dreamy Greece, and feeling a little better, days are my own for right now, artwork just has to happen. This week I pushed Mr. Resistance aside more than once to make sure I painted something, anything, to get into the process again. He wasn't happy either.
Yes, I worked a little while I was away. No, it wasn't any big deal, just some sketching in my Moleskin with watercolors a couple of beautiful beach days. I'll show you soon enough. It's more than I've done on other visits to our Greek island home. The plein air palette I purchased specifically for travel painting never made the trip with me. I was too stressed about where it would go in my bags that I couldn't handle it. Next time.
All that being said, I have made a pact with myself. Posting to the blog must become a habit again. Rededicating my inner child artist once again to working at the easel regularly is the direction. Work isn't going to happen by itself and the hustle has to pay off in the long run. The next art show is my focus and goal.
As long as I can continue in this manner we'll be okay!
Fingers crossed..